Apply for Premature Ejaculation Treatment
If medically suitable, your prescription will be sent directly to your chosen pharmacy by secure email (Healthmail).
We refund the full amount if our doctors cannot treat you.
How the service works
Online consultations with Irish based doctors
Our doctors will issue a 6 month prescription for either Priligy tablets or EMLA cream if medically safe and suitable
Valid in any Irish pharmacy to buy your medication
Prescription sent to your chosen pharmacy via secure email (Healthmail) within minutes of approval
The information that you provide is covered by the same patient-doctor confidentiality as in a normal face to face consultation.
What is Premature ejaculation (PE)?
Premature ejaculation is when a man ejaculates with little sexual stimulation and before the man wants.
This can cause problems for the man and may cause problems in sexual relationships.
Are there medications that can help with PE?
There are several different types of prescription only treatment for PE.
If medically suitable, our doctors will prescribe either Priligy tablets or EMLA cream.
Which medication should I try first?
If you are unsure which medication to try, our Clinical Director recommends you try Priligy first as it has a very high success rate and is far more convenient than Emla (Emla needs to be washed off after application and before sexual activity).
We are happy to issue another script for Emla if Priligy does not suit you or provide a good result.
What is Priligy?
Priligy (active ingredient dapoxetine) is a tablet treatment which needs to be taken about an hour prior to sexual activity. It will then provide help for about two to four hours and works by increasing levels of serotonin.
Priligy increases the time it takes to ejaculate and can improve control over the time of ejaculation for the majority (usually over 80%) of men.
Priligy is a selective serotonin reuptake inhibitor (SSRI), if you would like more information on Priligy, click this link for the Priligy Patient Information Leaflet
What is EMLA?
If Priligy does not agree with you or you'd prefer to not take tablets, Emla might be an option.
Emla is an anaesthetic cream. This is applied to the glans (or head) of the penis and causes the nerve fibres in the head to be numbed over the course of a few minutes.
This use of Emla cream is referred to as an 'off licence' use. Nevertheless it is a popular treatment for PE, click this link for the Emla Cream Patient Information Leaflet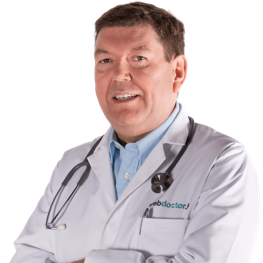 Dr. Sylvester Mooney
BSc, LRCS & PI, MB, BCh, BAO, DObs, DCH, DFSRH(RCOG)
Clinical Director