Period Delay
Period Delay
A discreet and convenient way to delay your period for up to 17 days.
It's absolutely normal to face times when being on your period is inconvenient. Holidays would be a good example.
At these times, there are medications that can be used to delay it.
Simply fill in the following brief questionnaire. One of our doctors will review your answers and prescribe if you are medically suitable. Otherwise, you will receive a 100% refund.
---
How does the Period Delay treatment work
At Webdoctor we prescribe a period delay pill called Provera. Provera contains a hormone called Medroxyprogesterone acetate (a form of progesterone). Provera is the only form of period delay pill available through our service currently.
This medication is very safe and commonly prescribed. The tablet should be taken 3 times a day, starting 3 days before your period is due. Your period should return within 72 hours after stopping the medication.
---
How the service works
Online consultations with Irish based doctors
Our doctors issue a prescription if medically safe and suitable
Valid in any Irish pharmacy to buy your medication
Prescription sent to your chosen pharmacy via secure email (Healthmail) within minutes of approval
---
Note: We can only ever prescribe for this treatment for patients that are at least 17 years of age.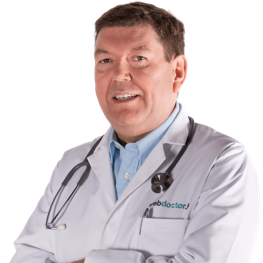 Dr. Sylvester Mooney
BSc, LRCS & PI, MB, BCh, BAO, DObs, DCH, DFSRH(RCOG)
Clinical Director