Video Consultation
Checking system compatibility
We need to get some information before we can provide the best possible care for you. To do this we ask that you fill out the following short questionnaire

When can I speak with an online GP?
Patients can avail of same or next-day appointments, 7 days a week, including weekends, evenings and bank holidays (excluding Dec 25th, Dec 26th and Jan 01).
Appointments are available during the following times:
Monday - Friday: 8am - 10pm
Saturday, Sunday and Bank Holidays: 10am - 6pm


What happens in the online doctor video consultation?
Our online GP will discuss your concerns and symptoms. As it is a video consultation, the GP will have the benefit of seeing you, enabling them to make important clinical observations.
A management plan will be provided, which may include a prescription for medication, a referral for further assessment/ investigations or a medical certificate.
A copy of the doctor's notes and advice will be sent to you via your secure patient account for your records.

How do I book an online doctor appointment?
If you have a Webdoctor.ie account, you can book an online doctor appointment in our app or on the website at a time convenient for you.
You can register for an account here.
Log on to your account and your doctor will connect to the call at the designated time. Here are some helpful tips on how to prepare for your GP video consultation.

What can we treat?
We can treat some of the most common illnesses that may not require a physical examination. These include:
- Coughs & colds.
- Sore throat.
- Upset stomach.
- Female urinary tract infections/ cystitis (non-pregnant).
- Skin & eye issues.
- Mild to moderate anxiety and low mood (Note: we do not provide controlled medicines, like Xanax or any sleeping tablets).
- Joint or back pain.
- Stable medical conditions such as diabetes, thyroid disorders, hypertension & high cholesterol.

Are there illnesses/ conditions that we cannot treat?
As we are not able to perform a physical examination, we cannot safely manage certain conditions including the following:
- Ear symptoms (including pain, discharge, bleeding, internal itch, and hearing loss).
- Testicular lumps.
- Sudden onset of severe testicular pain.
- Breast lumps.
- Urine infections in children (<16 years), males and pregnant women.
- Children < 1year old with a temperature of more than 38 degrees.
There may be other conditions or situations when it is not safe for us to manage your condition via an online GP video consultation. If this is the case, our doctors will explain the reason for this and discuss your options with you.
Management of mental health concerns:
If your current symptoms are not suitable for us to manage appropriately and safely via a GP video consultation, the doctor may advise that you attend a local GP for follow up. We have a large number of GPs in our service, so you may see a different GP each time, which means the ideal continuity of care will be difficult to achieve.
We are not able to manage/ assess mental health conditions in patients less than 18 years of age.

Can we provide referral letters?
Yes, we can provide GP referrals to A&E and hospital consultants. We can also provide referrals for scans, such as X-Rays, ultrasound, MRI, DEXA, and CT scans.
This is subject to clinical suitability.


Can you provide medical sick notes/ certificates?
We can provide medical sick certificates. However, we cannot provide retrospective medical certificates – these can only be issued where a patient has been seen within 48 hours of the onset of symptoms or appropriate medical documentation is provided.
We cannot issue certificates/ reports that require a physical examination, including but not limited to:
- Ergonomic assessments for workplace/home office equipment.
- Driver's license medical reports.
- Fit for work certificates.
- Fit for sports certificates (e.g. gym/marathons/sports).
It is worth noting that requests for medical certificates are dealt with on a case-by-case basis. It is possible that our doctors may not be able to assist with all medical certificate requests as an in-person examination may be required.
If you're unsure if your request can be dealt with in an online GP video consultation, please email info@webdoctor.ie and we can advise you further.

Can you provide prescriptions?
Yes, we can issue prescriptions for most routine medications.
However, we cannot issue prescriptions for:
- Medications that require close & careful monitoring e.g. Warfarin, Lithium
- Controlled drugs
- Drugs listed as potential drugs of abuse (these are not safe to use without the supervision of a regular doctor).
- Long-acting reversible contraception (LARCs)

Examples of controlled drugs include:
- Benzodiazepines
- codeine, morphine, tramadol
- modafinil (or any drugs used in ADHD)
- pregabalin/ gabapentin
- sleeping tablets (e.g. Zolpidem)
- heroin substitutes (e.g. methadone, Subutex).
If you have any questions about this, please send us a message to info@webdoctor.ie and we can advise.

Who can you treat?
Our doctors can treat you or a child in your care.
If you are booking a GP video consultation for a child, both you and the child MUST be physically present during the video consultation. The video consultation will not be able to proceed if both parties are not present and visible.
You cannot book a GP video consultation for another adult, they must have their own confidential account. You can register for a Webdoctor.ie account here.
Our service regards an adult as anyone who is 17 years or older.

Can I use this online GP video consultation service if I am abroad?
Our doctors can only treat patients who are physically located in the Republic of Ireland at the time of the consultation.

Can I use this service if I am pregnant?
We can manage some common conditions in pregnant women that are not pregnancy-related.
Please be aware, you may be asked to attend your local doctor if a physical examination is felt to be clinically appropriate.
If you are concerned that there is a decrease in baby's movements, or you have bleeding, please contact your local maternity assessment unit for advice immediately.
If you think you may have a urine infection, please contact your local GP or maternity assessment unit. It is essential that a urine sample is tested in pregnant women if there are concerns about infection.
What if I have a medical emergency?
If you or your child is experiencing a medical emergency, you should contact Emergency Services on 112 or 999 immediately.
This includes:
- Severe chest pain.
- Severe breathing difficulties.
- Severe abdominal pain.
- Sudden onset of severe or incapacitating headache.
- Sudden weakness of any body part.
- Sudden loss of vision.
- Profuse bleeding.
- New onset confusion, drowsiness or sleepiness.

What do I do if my child has a medical emergency?
If you are concerned that your child is very unwell, our service is not suitable and you should seek urgent medical assessment.
Advice on what symptoms to look out for and when/ where to seek medical assessment can be found via the link below: Spotting sepsis in children
If your child/ young adult is clearly ill and a purplish or red rash has appeared, press the side of a glass tumbler firmly against their skin. If you can see the rash through the glass, the person has septicaemia (blood poisoning). Seek urgent medical help at the A&E department of your local hospital, or call 112 or 999 to request an ambulance.

What if I have suicidal thoughts or think I may harm others?
If you have suicidal thoughts or think you may harm yourself or others, we urge you to contact your local doctor, a trusted family member or a friend. Alternatively, you can contact The Samaritans helpline on 116 123.
Pieta House provides suicide and self-harm support services all over Ireland. To contact Pieta House, call their free, 24-hour crisis helpline on 1800 247 247.

What do I need to use the Webdoctor video consultation service on my iOS or Android device?
You can simply download our Webdoctor iOS App from the App store. For this, you'll need an iPhone, iPod touch or iPad running iOS 14 or later. The Webdoctor Android App can be downloaded from the Play Store. You will need at least Android version 7 onwards, running on an Android mobile device. Please ensure you are running the latest version of your OS and Browser.

What do I need to use the Webdoctor video consultation service on my laptop or desktop?
You'll need a laptop or desktop with a Webcam and Microphone running Windows 7 or later (or on 11.X+ for Mac users). The following browsers are being supported:
Google Chrome (latest release version)
Firefox (latest release version)
Opera (latest release of desktop version only)
Edge (latest release version)
Safari (latest release version)
Webdoctor video consultations are not supported on Internet Explorer at the current time.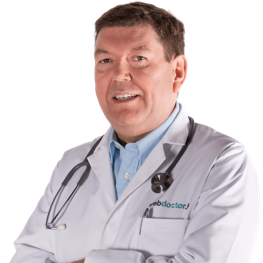 Dr. Sylvester Mooney
BSc, LRCS & PI, MB, BCh, BAO, DObs, DCH, DFSRH(RCOG)
Clinical Director